SkySentry provides a variety of winches to help fit customer needs. Factors weighing on winch choice often include tether size and length, minimum tether bend radius, desired pull strength, desired line speed, and special accouterments such as rotating power and fiber connections. We design and often build the winches in our own facilities, so we are able to precisely match customer requirements for reliability and convenience.

Tiny TEA Handreels. We found even our smallest aerostats, those in the 2-3 cubic meter range can impose considerable pull on the tether. This fact translates into the need for some special features on the handreel. First, you can see that the reel diameter is quite large compared to regular kite reels available on the internet. This larger diameter provides extra leverage to pull the aerostat down from its flight altitude. Even at that, winding a TEA in with high winds is quite a workout! Second, the upper level has a very precise disk brake control, which allows firm stopping and an infinite range of tension on the stainless steel disk brake, to control extension speeds. Finally, the reel can be clipped to a ground anchor to allow the TEA to fly for lengthy periods without wearing out the operator.
DC Electric Winches. Our small electric winches are designed for relatively fast extension and retrieval speeds, varying upward from about 60 feet per minute. These winches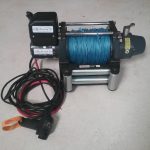 are optimized for synthetic tethers and are not appropriate for tethers with embedded copper wire or fiber optics. Pull on the tether greatly exceeds required pull strength for retrieving a TEA even under the harshest wind conditions. Depending on the diameter of the tether, these winches typically hold enough tether to enable flight up to 500 feet above the ground. These winches can flexibly be mounted on platforms on the ground, a truck or utility vehicle, trailer, boat or vehicle.

Hydraulic Winches. When payloads dictate the need for copper wiring or fiber optic connectivity to the payload, several factor bear on the winch design. Specifically, the minimum bend radius of the tether requires a larger center drum on the winch, so as not to break the inner tether components. The capacity of the drum must be larger to enable higher flight altitudes, and of course, the speed on the tether is important for operator convenience. Our hydraulic motors are specified to match pull requirements, and our valve controls allow precise tether speeds. Importantly, the winch allows mounting of electric slip rings and fiber optic rotating joints for ground connection to the payload.
Please let us know your winch requirements. Production typically usually takes less than a month.