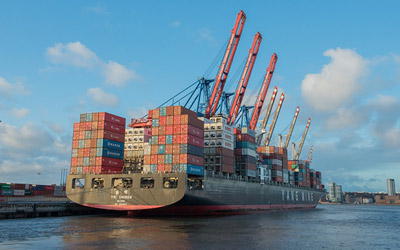 Quickly deployable aerostats with high resolution, day-night cameras, can be put in place in response to disaster recovery, threat tips, and daily port management.
CONCEPT: Judicious placement of an aerostat with a high resolution, day-night cameras, and communications nodes can significantly enhance the effectiveness of port communications, data transmission and situational awareness.  The persistence of the aerostat enables more affordable coverage, on a dollars per hour basis than aircraft, UAVs, or satellites.  Automatic Identification System and Specific Emitter Identification payloads are available options.  For long-range surveillance, out to about 90 miles, large aerostats with synthesized radar-camera systems are available.
FUNCTIONS:  SkySentry's Tactically Expedient Aerostat—34 M3 (TEA-34) Aerostat and larger models up to 100M3 are fully integrated with surveillance cameras and networked communications.  Of course, the TEA can easily be integrated with current customer payloads as well.
A small, short-range TEA, flying at about 500 feet, can:
Provide high resolution, day-night coverage of port or harbor activities, with Pan-Tilt-Zoom cameras, capable of automatic tracking of vessels, with results easily published to controlled websites
Enable publishing of tracking data to Ops Centers and internet for remote viewing
Establish line-of-sight connectivity among network participants to ranges in excess of ten miles, for security vessels, supervisors, and workers
Provide telemetry links from shore workers, boats, and other vehicles to relay origin, destination, speed, precise location, and other data
Disseminate various types of sensor data, to and from mission command
Large, long-range Heavy Expeditionary Aerostats, flying up to 3,000 feet or more, can:
Elevate synthesized radar-camera payloads, in which the radar cues the camera, to observe vessels out to about 90 miles
Enable consolidated radar-camera common operating pictures to Ops Centers
Integrate with AIS, SEI, and other sophisticated payloads to help with recognition and identification of the target